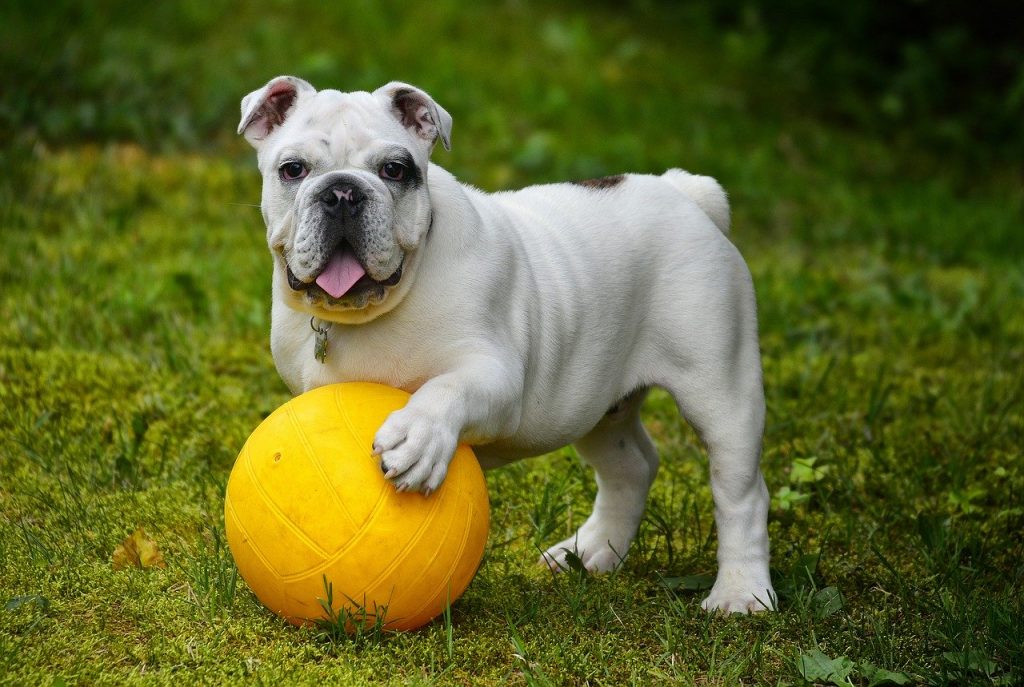 The English Bulldog is best known as great family companion but in the past they were working hard and they looked very different. There are TOP 10 interesting facts about the English Bulldog Number one origin. It's almost impossible to track down the Bulldogs history precisely. It's believed that Bulldog like dogs were used for centuries to drive cattle to market and for a so-called bloody dog sport bullbaiting The first mention of the breed was in 1500s in a description of a man with two Bulldogs at his tail. It is believed that they are descendants of ancient mastiff dogs and that they were entirely developed in England. Number two appearance – the Bulldogs appearance changed a lot over the time. Early Bulldogs used for bullbaiting and as drover dogs were much more athletic muscular, taller, heavier and they had much longer faces. Just look at this photo of the early English bulldog the difference is just enormous.
Number 3 family companions – in 1835 the bullbaiting was finally outlawed which caused that most of the Bulldogs did not have a purpose anymore, because back then the Bulldog was not an affectionate companion we know today. It was quite an aggressive breed but luckily many breeders love the Bulldogs and they started to bred only the dogs with docile and affectionate temperament which is exactly the trait we admire on todays Bulldogs and indeed the Bulldog we know today is amazing friendly gentle and tolerant companion.
Number four stubbornness – on the other hand the English Bulldog is definitely not a pushover to train they are not stupid definitely not, but they are known to be pretty stubborn. This is why they need patient and firm trainer to become obedient. Number five watchdog the Bulldog is also quite courageous and alert breed, they will not back up against even much larger opponent which is a reason why they can be trained to be good watchdogs although they are pretty lazy so do not expect them to patrol around a large property.
Number six living with – the Bulldog is just a great apartment pet, because they do not need much exercise or better to say compared with other dogs because you will still need to go on a long walk every day even with a Bulldog to keep him healthy and happy. The Bulldog will also love regular play times. It is important to not overdo it with the exercise especially in hot temperatures because Bulldogs can have difficulties with breathing. Number seven size the Bulldog has short legs, medium sized compact body and wide head.
The average height should be around 16 inches which is 40 centimeters and weight it is typically between 18 to 25 kilograms which is 40 to 55 pounds. The females are slightly smaller and lighter than males. Number 8 head – the most distinctive part of the Bulldogs appearance is definitely its head. The head is just massive for a medium-sized dog. The muzzle is extremely short and they have wrinkled face. By the way it's important to clean the wrinkles because they can develop skin infections.
The jaws are also massive and lips are fleshy and pendulous. Number 9 maintenance this is very easy to maintain dog breed they have short hair but they still do shed so brushing from time to time will remove the dead hair and minimize the shedding. Be prepared for drooling and snoring. Just like with all dogs you should regularly check their eyes ears and nails and clip them or clean them if needed Number 10 health – the Bulldog can suffer from a lot of health issues.
It is definitely not the healthiest breed, the list includes brachycaphelic syndrome head tremors, patellar luxation, hip dysplasia, demodectic mange, entropion problems with breathing, heat stroke and obesity. The average lifespan is between 8 to 10 years. Which is one of the shortest in their size category.